New South Greens
Thursday, February 21, 2013 at 12:12 pm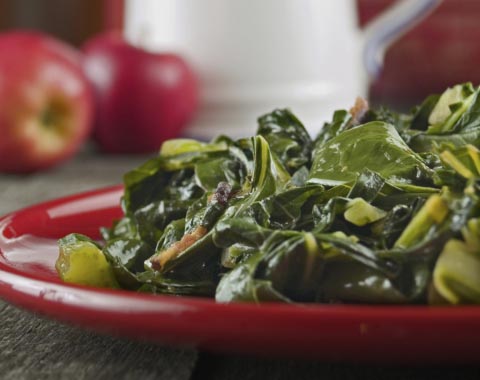 The recipes for cooking greens (turnips, collards and mustard) are ubiquitous, but they tend to follow a classic style of using a large stock pot with water or the more contemporary use of a smaller amount of oil in a covered stock pot that utilizes the natural moisture of the greens and the oil to cook the greens.
Ingredients
2 tablespoons of olive oil
8 ounces of diced pork tenderloin
4 ounces of chopped banana peppers
1/4 teaspoon of freshly ground black pepper
1/4 teaspoon of salt
9-quart stock pot
 Heat the olive oil at medium temperature in the stock pot for 2 minutes.
 Add the pork and saute about 10 minutes or until lightly browned.
 Remove the pork from the stock pot and place to the side.
Reduce the heat to medium low and add 1 pound of the greens to the stock pot.  Cover the pot and simmer for about 5 minutes until the greens are wilted.
 Stir the wilted greens, add the remaining greens and repeat the process until all the greens are wilted.
 Add the banana peppers, salt and pepper as well as the pork previously set aside.  Stir and simmer for an additional 15 minutes.
 Remove the covered pot from the heat and let sit until ready to be served.  Reheat at medium temperature for 5 minutes prior to serving.
Makes 6 servings
Serve with freshly baked cornbread, baked chicken or ham.
Nutritional Facts:
Calories 158, 12.7 grams of protein, 9.8 grams of carbohydrates, 2.7 grams of fiber, 7.7 grams of fat (1.8g saturated, 4.6g mono-unsaturated, 0.9g poly-unsaturated, 0g trans-fats) and 223 mg of sodium.